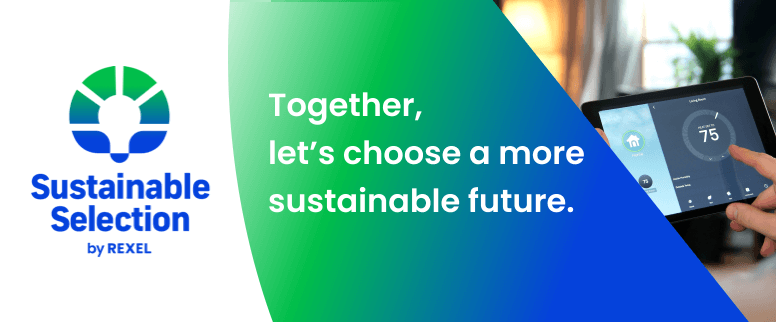 Provide a selection of sustainable products
When it comes to climate change and sustainable development, half-measures are not an option. That's why, as a global distribution expert in the energy world, Rexel is reaffirming its commitment to a better tomorrow and is launching the Sustainable Selection, an informed selection of responsible products and solutions to help meet your needs and anticipate regulatory changes.
A selection that's demanding today, and will be even more so tomorrow.
Discover Our Sustainable Selection
As a historical partner in electrification and energy efficiency, we constantly strive to make your activity easier, more efficient and more sustainable. Today, we are accelerating our efforts with our Sustainable Selection to offer you the most responsible products (with least impact on the planet, respecting ethical values and contributing to energy transition).
We are at the start of our journey, and we will be ever more exacting in our selection criteria in complete transparency to help you make the right choice from among our range of products and brands.
Find our Sustainable Selection products at a glance
It couldn't be easier: when you search for products in the Rexel webshop, you will see the Sustainable Selection icon on all eligible products. The same logo can also be found on the product page, where you will discover the satisfied requirements that led to the product being selected.
This marker helps you identify our selection of products that meet your needs in terms of sustainability and products that make the energy transition happen.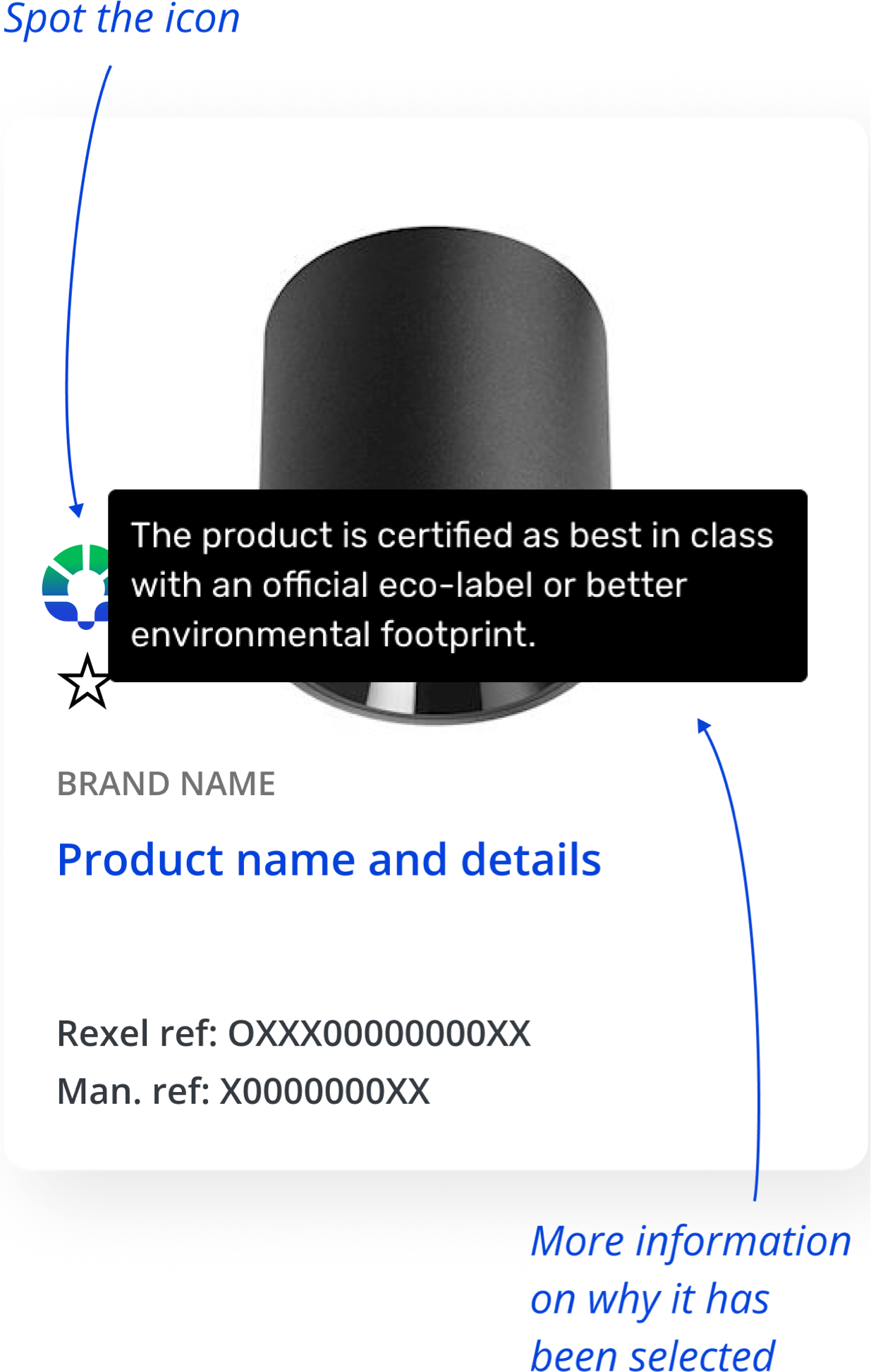 Selection criteria set to become more demanding over time
Committed Suppliers
Products from suppliers who have signed our Sustainable Supplier Charter. They are committed to demanding social and environmental standards
Products contributing to energy transition
Products that make a tangible contribution to cutting carbon emissions at point of use.
Carbon footprint
Products that meet selected eco-label certification requirements
Best-in-class products based on their environmental footprint
Products that ensure the best environmental footprint within a specific category.
Circularity
Products that are designed to minimize waste and promote circularity.
An example of a product meeting our selection criteria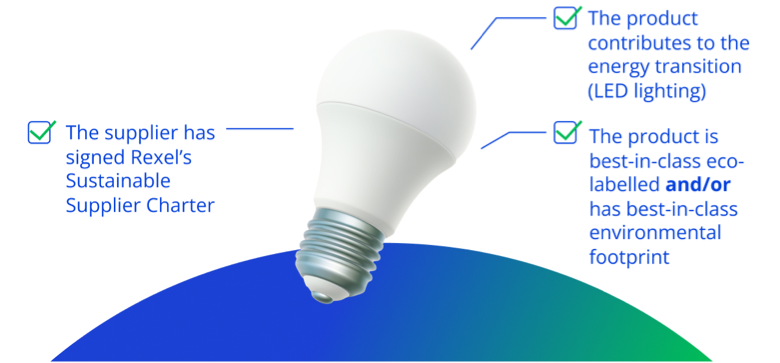 A bold, progressive, and developing sustainable program
Our Sustainable Selection is a progressive and continuous program that we will continue to implement in the coming years by reinforcing our criteria according to four categories that we have identified to address environmental and social challenges.
Energy Efficiency
Contribution to the customer's transition: saved energy, smart systems, sobriety
Circularity
Alignment with circular economy principles: durability, reparability, recyclability
Carbon Footprint
Impact on the environment and society over the full lifecycle: carbon emission, resource consumption
Responsibility along value chain
Monitoring benefits and risks along the value chain: resilience, social benefits, living wage, ethics, compliance
2023
Sustainable Selection launch in 2023
accelerating our advisory role over the coming years, at the crossroads between customers and manufacturers
80%
Committed suppliers who have signed our charter
2023 objective (Group level)
A selection implemented worldwide
Sounds electrifying? Join us in making a sustainable future possible!
With our Sustainable Selection, we help you choose your products in full awareness, working together towards a more sustainable future. By 2050, our ambition is to reach Net Zero emissions. Together, with you, we can achieve it.
Your questions, our answers
With its Sustainable Selection, Rexel is stepping up its commitment to support you in meeting the challenges of the sustainable transition. Discover our other services and solutions that make a sustainable future possible.
Find our Sustainable Selection products at a glance
As a promoter of energy management services and solutions, Rexel places the energy transition at the heart of its value creation strategy, confirming both its ambition and its commitment to building a sustainable future.
Partner4Planet,
Rexel's advanced program with suppliers for a sustainable roadmap